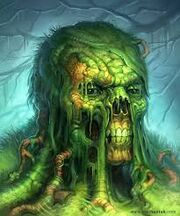 Swamp Thing is from te movie Swamp Thing and is a fictional swamp monster in DC comics.
Len Wein created Swamp Thing.
Berni Wrightson, an artist, designed Swamp Thing.
Swamp Thing first appeared in House of Secrets.
In it, he tried to protect his swamp home.
For Other Uses, Visit These Pages:
Edit
Ad blocker interference detected!
Wikia is a free-to-use site that makes money from advertising. We have a modified experience for viewers using ad blockers

Wikia is not accessible if you've made further modifications. Remove the custom ad blocker rule(s) and the page will load as expected.