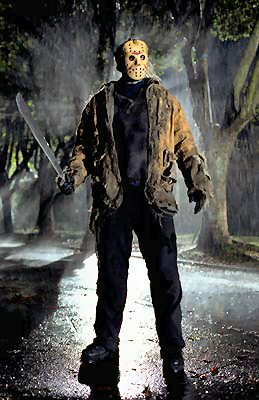 Jason Vorhees is from Friday the 13th made in May 9, 1980 (USA)
Why Wear a Hockey Mask?
Edit
Jason Vorhees was murderer, who wore a hockey mask so no one could see his face and reconize him.  Jason was very tall, also.  He had talented tecnecs.
Weird But True: Facts About Jason Vorhees
Edit
---
Sean S. Cunningham, Steve Miner, Marcus Nispel, John Carl Buechler, Tom McLoughlin, Joseph Zito, Danny Steinmann, James Isaac, Adam Marcus, and Rob Hedden  directed Friday the 13th.
---
Jason seems to wear the same clothes as Michael Myers.
---
Tom Morga, Dick Wieand, Ari Lehman, Derek Mears, Warrington Gillette, Ken Kirzinger, C. J. Graham, Richard Brooker, Tim Mirkovich, and Kane Hodder played Jason Vorhees.
So, If you ever see Jason, RUNNNNNNNNNNNNNNNNNNNNNNNNNNNNNNNNNNNNNNNN!