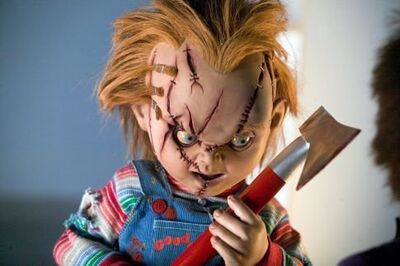 Chucky is a doll.
Child's Play
Edit
Chucky appears in the movie Child's Play.  He was created by Mancini.  Chucy is Charles Lee Ray (also known as The Lakeshore Strangler) in the movie.  Chucky has also become one of the most coolest horror monsters like Freddy Krueger , Jason Vorhees , and Michael Myers . 
Chucky is a doll, who is trying to transform himself from a doll to human boy, Andy Barclay.  Chucky also did really bad things.  
Ad blocker interference detected!
Wikia is a free-to-use site that makes money from advertising. We have a modified experience for viewers using ad blockers

Wikia is not accessible if you've made further modifications. Remove the custom ad blocker rule(s) and the page will load as expected.